When was the Yorkshire Dales National Park established?
The Yorkshire Dales became a National Park in 1954, to preserve and promote it's unique scenery, local history and wildlife. The park covers about 1800 square kilometres and supports approximately 20,000 residents. In excess of 8 million visitors each year come to enjoy the breathtaking landscape, wildlife and picturesque villages.
My favorite circular tour through the Yorkshire Dales National Park is from York on the A59 to Skipton, on the B6265 to Grassington, then on the B6160 via Kettlewell to the Aysgarth Falls. Returning on the A684 via Leyburn, then the A6108 down to Ripon and the A61 / A59 back to York.
This makes for a very pleasant days outing by car, with time to take a walk around Grassington, Kettlewell and especially the Aysgarth Falls. In addition you obtain some splendid views of the Dales.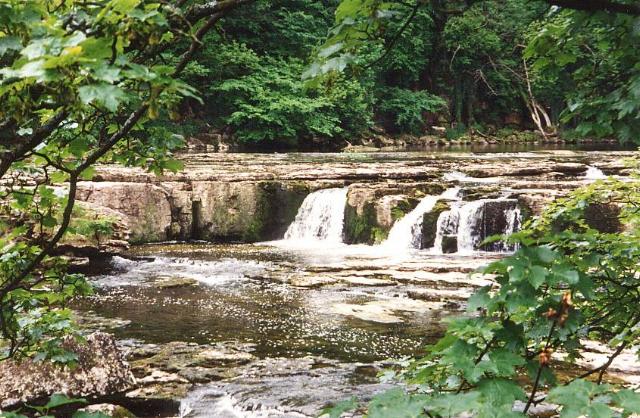 At Aysgarth Falls a short distance from Aysgarth village, the tree lined river Ure gushes down a series of natural rock terraces to form three waterfalls named the Upper, Middle and Lower falls.
A detour to Malham and Malham Tarn is also recommended (7 miles north west of Skipton). Malham reputedly the most visited village in Yorkshire, is popular as a walking and climbing centre. Malham and Skipton are described on a separate page in this site.
There is so much to see and a limit as to what can be easily visited in one day. Several visits are recommended.