To be precise Bolton Abbey actually refers to the small village adjacent to the ruins, the ruins themselves are known as Bolton Priory. The priory was originally founded in about 1120, on land gifted to the Augustinian canons by Lady Alice de Rumilly, the owner of nearby Skipton Castle, perhaps as insurance against a good place in the next life. The original site at nearby Embsay, had an exposed position and was soon moved to the current more sheltered site by the River Wharfe, also provided by Lady Alice.
The canons days were a long cycle of prayer and worship, starting at 2 am and continuing until dusk. despite this they still found time for charitable works such as preaching, teaching, running hospitals, and providing shelter to weary travellers. The income for these good works and for extending the priory buildings, was gained from the sale of produce and rents from farms, mills and mines. These activities continued happily for four centuries until suddenly in 1539 the Dissolution of the monasteries by king Henry VIII, brought their life-style to an abrupt end.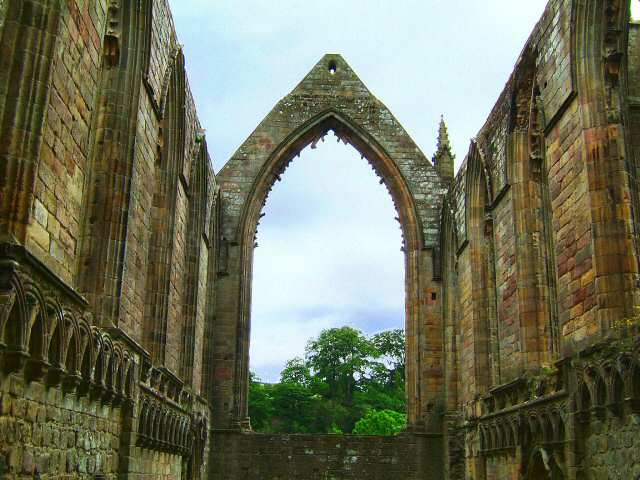 The ruins today include the full height west end gable together with a large section of the north transept (the Choir). The restored 13th century nave with its magnificent ceiling and stained glass windows has continued to survive as a place of worship for local people and today serves as the parish church. Little remains of the monastic outbuildings except for the foundations. The adjacent Rectory was converted from a school, built on the site of the Priory Infirmary, using stones from the monastic ruins.
Where is Bolton Abbey?
The picturesque remains in their outstanding position overlooking the river Wharfe, form part of the Yorkshire Estate of the Duke and Duchess of Devonshire and can be found off the A59 Harrogate road east of Skipton.